Today on Conversations, I'd like to introduce you to Hannah Spivey and her new book Ebony The Beloved!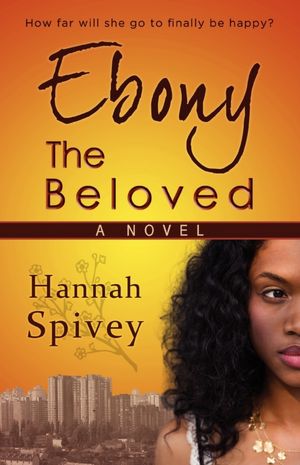 Ebony has been condemned and rejected by her parents and peers all of her life. Like many other black girls who grew up weary to face life, she struggles with the adversities of being impoverished and accepted for who she is. After being mentally, emotionally and sexually abused, Ebony still struggles to fight her way to the top, never fully realizing what her worth is until she finds love and acceptance from one of the faculty members at her school. From that point on, things began to blossom for her until she meets a smooth operator named, Desmond Waltz.

Desmond is a world renowned entertainer who takes a sudden romantic interest in Ebony. His hidden sadistic and sexually devious desires for her erupt into rage, abuse, and imprisonment. Not only is Ebony's world turned upside down, but she has to deal with Desmond's desire to see her suffer under his thumb, but she is also subjected to his domineering mother, who hates her and abuses her every time she gets, leaving Ebony beaten and bloody and begging for the pain to stop.

Will Ebony be able to break the perpetual cycle of abuse, self-hatred, and anguish? To what end is Ebony willing to go to finally be happy? What happens next in this riveting novel has twists and turns that will have your jaw dropping.
Amazon: http://www.amazon.com/Ebony-The-Beloved-ebook/dp/B007X53M8W/ref=sr_1_2?ie=UTF8&qid=1347646377&sr=8-2&keywords=ebony+the+beloved
Barnes and Noble: http://www.barnesandnoble.com/w/ebony-the-beloved-spivey-hannah/1104579501?ean=9780615516837
A little bit about Hannah:
Tell us a little about your current project?
I am currently promoting my novel "Ebony the Beloved" which is centered around domestic violence, child abuse, and bullying.
Was it hard breaking into the publishing/screenwriting?
It was hard breaking into publishing because I knew nothing about the publishing business. So, I had to research like many other aspiring writers.
What did you do to prepare yourself? Did you go to school or learn through outside workshops?
Nope. I was born to be a writer but…I am still perfecting my craft.
What is the single most important thing you've learned about managing your career?
I've learned that no one can help you promote your book better than you can.
How do you promote your work to readers? To publishers? To production companies?
I pitch them via email or by phone. I tell radio interviewers/reviewers who I am, the name of my book, what my book is about, and the cause I am promoting via my book.
If you weren't writing as a career...what would you be doing?
I'd probably be a forensic technician.
What is the craziest thing you've done to research a story idea?
I never did. All of my story ideas come from the things I hear about, think, and see.
They say you make your luck...what have you done in your career that has resulted in what other people might think of as being lucky?
My publisher financed my book with her own money.
Everyone always wants to know about a writer's writing space. What's yours like?
Mine would be in my bedroom. That's where my inner writer comes out.
Do you write every day? Every week? Odd times?
I try to write everyday but sometimes I end up writing a couple of times a week.
When you get deep into a project, how do you balance your time between work and family?
There's really no balance. I am a big time procrastinator. Although, I try to set deadlines for myself, I still don't meet them like I should.
What was the most exciting thing that has happened in your career so far?
Don't limit it to a big sale.
Did you meet someone spectacular who influenced you? Did you hit a particular bestsellers list?
I'd say I've learned how to market and promote my book and I've written an article about bullying for a very popular media entity called, "Rolling Out."
To order Ebony The Beloved:
Amazon: http://www.amazon.com/Ebony-The-Beloved-ebook/dp/B007X53M8W/ref=sr_1_2?ie=UTF8&qid=1347646377&sr=8-2&keywords=ebony+the+beloved
Barnes and Noble: http://www.barnesandnoble.com/w/ebony-the-beloved-spivey-hannah/1104579501?ean=9780615516837